Provide access to the
ARM

applications (GUI)

The following steps are optional:

You can provide the ARM applications to further users via share or install.
Provide applications through a share
Pro
This "deployment via sharing" procedure minimizes the amount of maintenance required for updates compared to installation on the client computer.
Con
After clicking on a start shortcut, larger amounts of data are transferred over the network than with a local installation. With low bandwidth (WAN routes), this can result in a longer start time.
Screenshots property of © 2020 Microsoft.
To give users access to the ARM GUIs, you must share the following folder with read permissions:
NEW: %ProgramFiles%\Solarwinds\ARM
OLD: %ProgramFiles%\protected networks\8MAN
It is not sufficient to share only the sub-folder "bin".
Screenshots property of © 2020 Microsoft.
You can create shortcuts for users to the ARM applications in the bin folder: app8Man.exe and  appConfig.exe.
Install the
ARM

applications
Copy the

ARM

Setup.exe file into a local folder (do not use a network folder).
To start the installation, execute the file with admin rights. By default the setup language will be set to the language of your operating system if supported (German, English, French). If your language is not supported English will be used.
You can install the ARM GUI on client computers or servers as often as desired.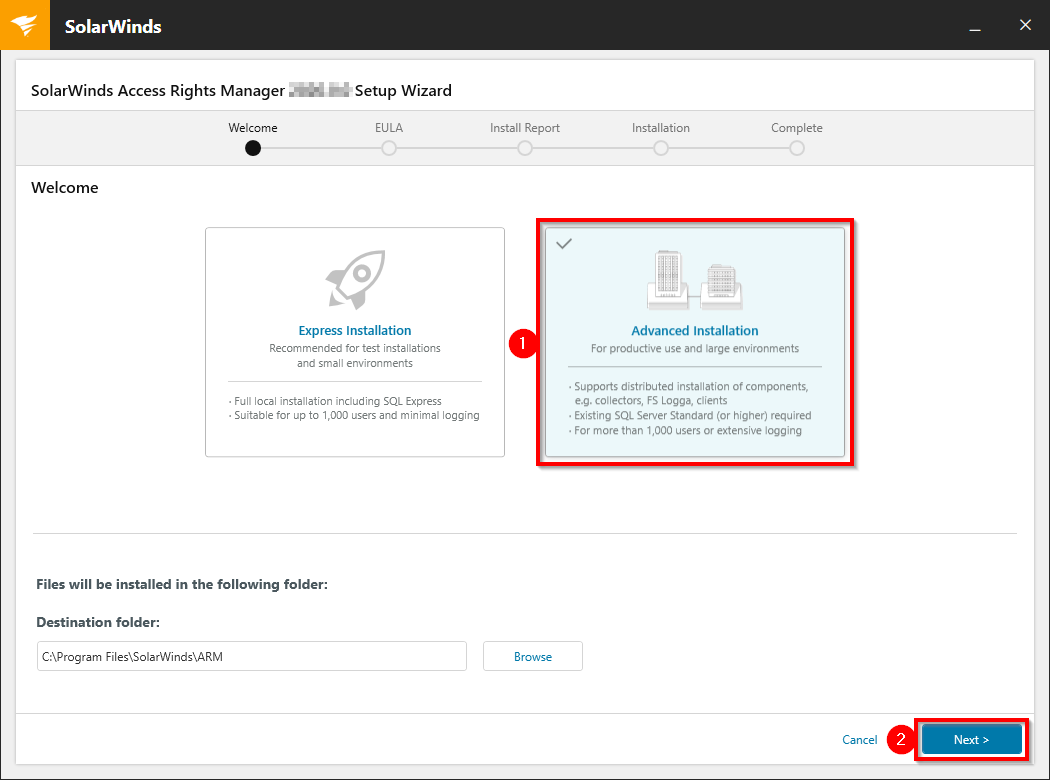 On the welcome page select Advanced Installation.
Click Next.
Select Custom Installation.
Enable

ARM

application and/or

ARM

Configuration application.
Click Next and follow the instructions on the screen to install the

ARM

applications (GUIs) to the PC locally.
Leave the ARM Web Components option disabled. If the web components are installed on a server computer, the web based applications are available via supported browsers on any client without any further installation.
---