Administrator setup guide
On this page
Introduction
Welcome to SolarWinds Service Desk (SWSD). It is designed to improve IT service management throughout your organization.
This is accomplished via multiple factors such as:
Monitoring current IT processes
Assessing trends
Highlighting areas that need improvement
This setup guide introduces you to the features of SWSD and assists you with the onboarding process.
Factors to consider
The IT Service Desk and AI tools can quickly restore the end user back to productivity. This can be accomplished via numerous features of your Service Desk, such as:
Providing a user friendly Service Portal where end users can:

Open incidents
Open service requests
Find knowledge base articles and FAQs

Setting up automations to ensure prompt ticket handling
Setting up workflow processes to streamline actions
To maximize efficiency of services, you need to clearly understand the end-user experience so SWSD can meet their technological needs. This is best accomplished by:
Tracking tickets
Identifying recurring issues
Maintaining services up to date with current technologies
The above items all factor into assuring smooth continuity of services.
Before you begin your initial setup
Consider the following details in order to maximize the benefits of your SWSD.
Users
Who will be using SWSD?
End Users (the customers of the services your service desk provides)
Agents/Technicians (the individuals who address and resolve incidents, service requests, and change requests)
Organization
Consider the basic setup of your organization.
How could I best manage all my ITAM and ITSM needs to meet organizational goals?
Do I need a high level of confidentiality between my departments? For example, should IT be able to access HR files?
Based on the answers to the questions above and additional organizational factors, it may benefit your organization to maintain more than one Service Desk account. Your organization might find it beneficial to establish separate accounts for different departments, such as IT and HR.
Because HR requires a high level of confidentiality, you would likely want to prohibit IT staff from accessing any of the HR related service records. In this case, it might be necessary for you to establish an HR account administrator who is a member of the HR team rather than the IT team. This would prevent IT from accessing unauthorized data.
Service Portal use
An important additional element of SWSD is the Service Portal.
Before beginning your setup, take a quick look at the Service Portal to gain a deeper understanding of how your users will interact with the platform. You can determine, based on end user and organizational needs, how to best set up areas of the Service Desk, you may want to:
Create specific change request forms
Define workflow processes
Automate ticket routing
Create custom forms
Add custom fields
Include custom dependencies
Navigation
All setup features are available by navigating to Setup from the left navigation pane.

Setup options
Some companies choose to perform minimal setup to get up an running as fast as possible. Others choose to take a more thorough approach and set up SolarWinds Service Desk to gain the most benefit from its features.
For those who want to take the minimal approach, see Setup order.

For those who want a complete setup, see the Related topics section, which provides links to guidance for a more thorough setup.
Single account setup vs multiple accounts
Decide whether you are going to use SWSD to maintain a single area of your organization or you need multiple accounts, for example, IT and HR. If you need multiple accounts, see Manage multiple accounts. If you need to manage a single area:
Login to SolarWinds Service Desk (SWSD).

Enter your account email (which is your login ID) and password.

In the left navigation pane, select Setup at the bottom.
Notice both the Setup menu on the left pane and the tiles on the right provide access to the setup areas where you will need to define your Service Desk parameters. In addition, you can use the helpful search bar on the left. By entering keywords there, for example users, service desk, and custom forms, you can navigate directly to the desired setup screen.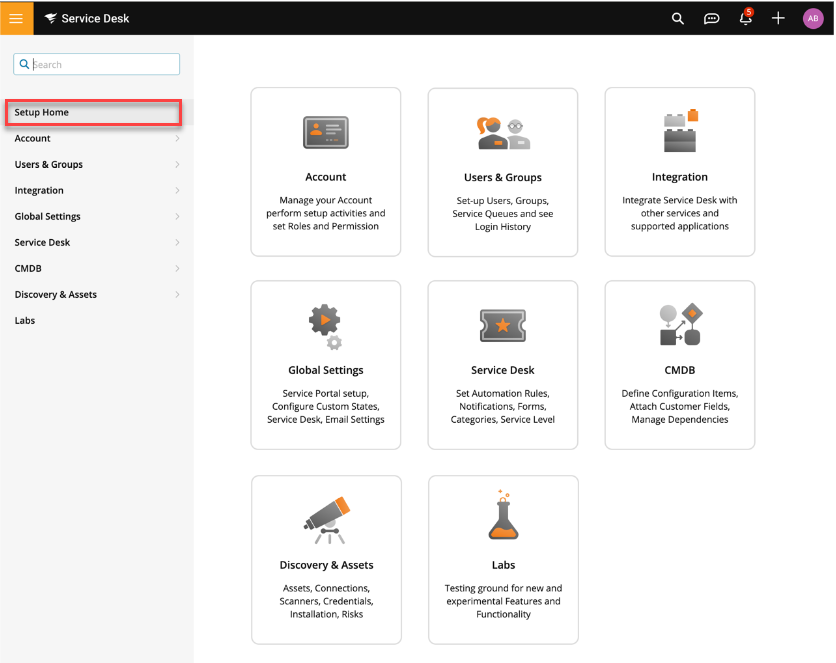 Related topics
---