Mobile application
On this page
Introduction
SWSD is available anytime anywhere, from any iOS and android device. This ensures your employees have access to the support and resources they need to stay productive.
Download the app
Whether you are an administrator or agent, downloading the app is fast and simple. Based on your predefined user roles, you will have access to the relevant areas of the app.
To download, search for the SolarWinds Service Desk app in the App Store or Google Play store.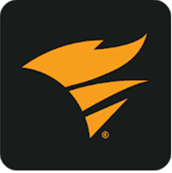 Navigation
When the mobile application opens, by default it opens to a list of incidents and service requests.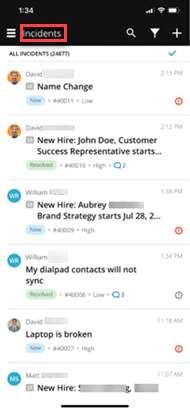 You can switch to any other module by clicking the 3-line menu

in the black area above the list. A list of the modules then displays.

Available modules
Available modules are:
Multiple accounts
If you have access to multiple accounts, the mobile app will prompt you to provide the name of the account you are logging into.
Your organization's account name is typically the domain name portion of the URL. For example, in https://<account domain name>.samanage.com, your account name would be the portion between the brackets. For more information, see
Manage multiple accounts
.
If you are unable to determine your organization's web address, contact your service desk for assistance.
Log out
To log out of the mobile app:
Tap the 3-line menu in the black area at the top and select Settings.

In the Setting list, scroll to the bottom and select Log Out .
---