Releases
A Release is the action part of the process.  Release management is the process of managing, planning, scheduling and controlling a software build through different stages and environments; including testing and deploying software releases.
You can customize your view on this screen and utilize the additional icons on the right hand side:
icon - By entering keywords such as New, Assigned, Resolved etc. you can limit your search to reflect only Problems in the states.
icon - Allows you to create a new problem and/or attached a incident, change catalog item (CCI), etc. if necessary. 
button allows you to carry out several actions such as:

Mass Update
Login History
Import
Export via CSV, XML, PDF and more

icon reveals additional information and a tutorial on how to better understand your tasks.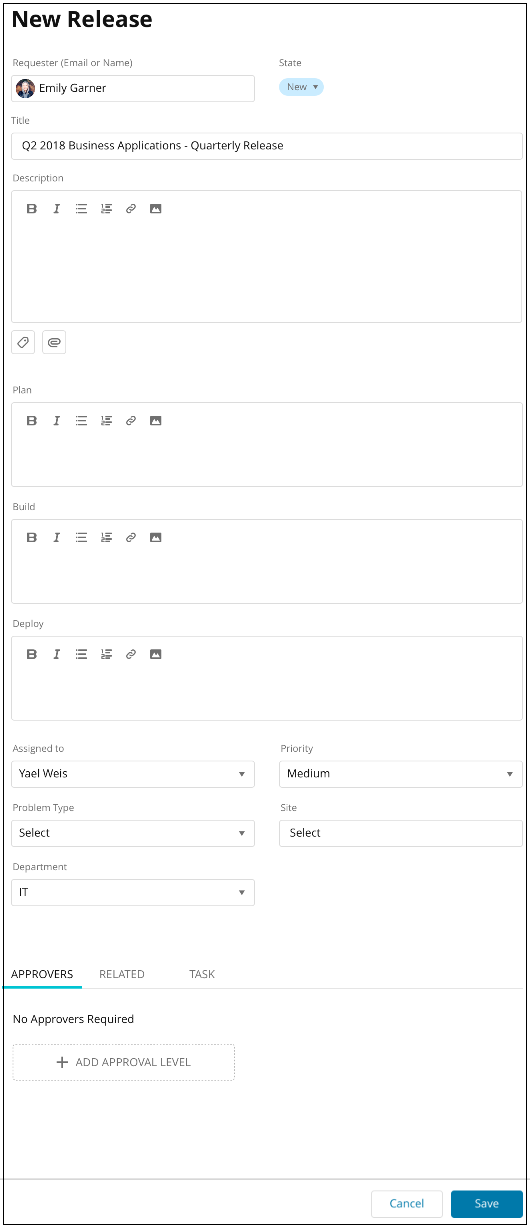 Make sure you include the approver if necessary to allow the release to process.  Click
to save your data.
As you input information regarding Releases, select a Release Title to reveal the details page.
Export to PDF
From the top right corner, you can submit this Release for Approval or by selecting the
button, you can:
Clone the Release
or Export to PDF.

When you select PDF Export, a menu appears that allows you to select which tab/s you want to export.

For example:
Details tab
Comments tab
Related tab etc.
In addition, notice the six tabs offered on the bottom of each release screen:
Notes
Details
Approvers
Related
Tasks
Audit
When you hover over the right corner of the approver window, inline editing is available. That is, make changes directly from this screen. For example:
Add approvers
Select all approvers and more
---