Email logs
SWSD offers a comprehensive email log. The log is a detailed deliverability report on all emails sent from your SolarWinds account. Email logs can help administrators determine whether recipients are reading the emails they receive and troubleshoot deliverability errors.
Common deliverability issues include:
Invalid emails. Email address or domain name was invalid, or an ISP reports that the email supplied is invalid.
Blocks. Blocks occur when an email address does not exist in the domain or the destination mailbox is over quota.
Bounces. Bounces occur when your email has not been successfully delivered and the reported reason is the email bounced.
Navigation
Setup > Account > Email Logs.
All Email Logs index page
The All Email Logs index page contains a number of icons and clickable fields to edit your view.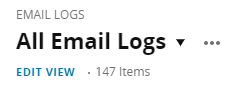 As you create, filter and customize logs to focus on your specific needs, you can save the new view, making it available for future viewing. See List view to learn more about customizing your Email Logs index page.
Below is an example of an edited email log.

In the example, the contents are filtered by the event and specified attributes such as:
Processed
Delivered
Opened
Closed
You can filter by one or all attributes that are relevant to you simultaneously.
The Reason column provides a additional customization options. You can select to focus on issues such as:
Account Activation
Auto Resolved
Change Approval Requested
Incident Created and so many more.
SolarWinds recommends reviewing your options in the blue Edit View field to familiarize yourself with the email logs available to you.
---