Problems
A problem is defined by a series of incidents where the root cause is unknown. 
You can view All Problems or determine which are most relevant and customize your filter.
Notice the four icons on the right hand corner of your screen. 
icon - By entering keywords such as New, Assigned, Resolved etc. you can limit your search to reflect only Problems in the states.
icon - Allows you to create a new problem and/or attached a Incident, Change CI etc. if necessary. 
button allows you to carry out several actions such as:

Mass Update
Login History
Import
Export via CSV, XML, PDF and more

icon reveals additional information and a tutorial on how to better understand your tasks.
If you are adding a new Problem, please enter as much detail as possible and attach any relevant items.  By defining the Root Cause, Symptoms and Workaround you are adopting a proactive approach to problem management. By evaluating tools and processes that identify underlying conditions or issues you prevent a greater problem.
Make sure you click
to save your data.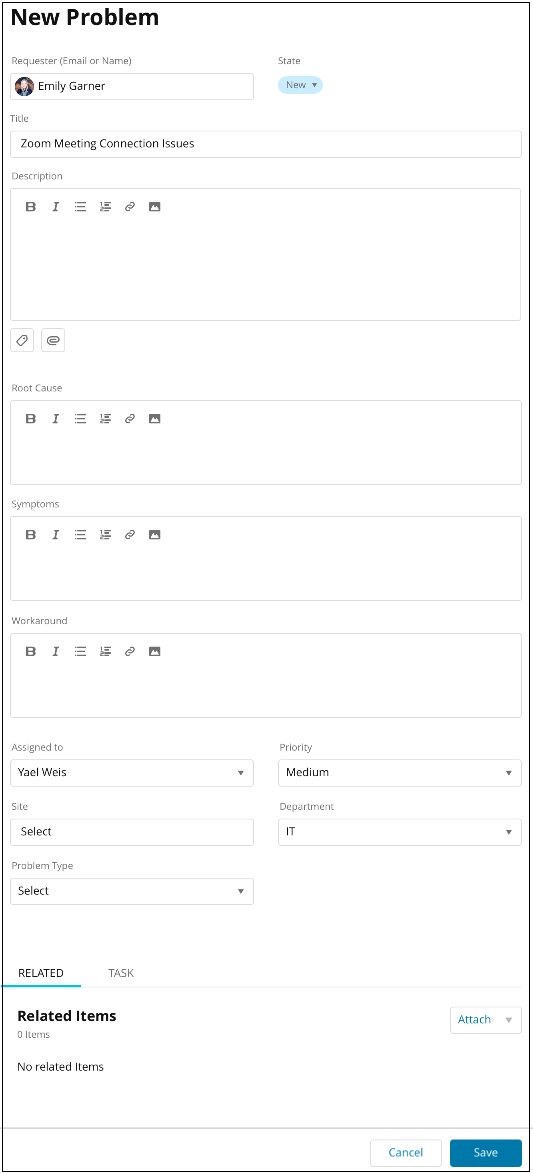 To delve into the specifics of any Problem, click the Problem title to reveal the details page.
Export to PDF
Notice once again, the
button, this time offering to:
Clone the Problem
or Export to PDF.

When you select PDF Export, a menu appears that allows you to select which tab/s you want to export.

For example:
Details tab
Comments tab
Related tab etc.:

The tabs at the bottom of this screen provide further details such as:
---