Escalate and de-escalate tickets
Escalating or de-escalating a ticket moves an assigned ticket to a higher or lower tech group level, respectively.
If a higher tech group level is available, the ticket is escalated to that level. If a ticket still requires escalation and a higher level tech group is not available, the ticket escalates to the group manager. If further escalation is required, the ticket can be escalated to the lead tech for the request type. When the ticket is escalated, it inherits the email settings from the tech group level settings and ticket assignment strategy.
When a ticket is escalated or de-escalated, a tool tip provides more information about the escalation or de-escalation, as shown below.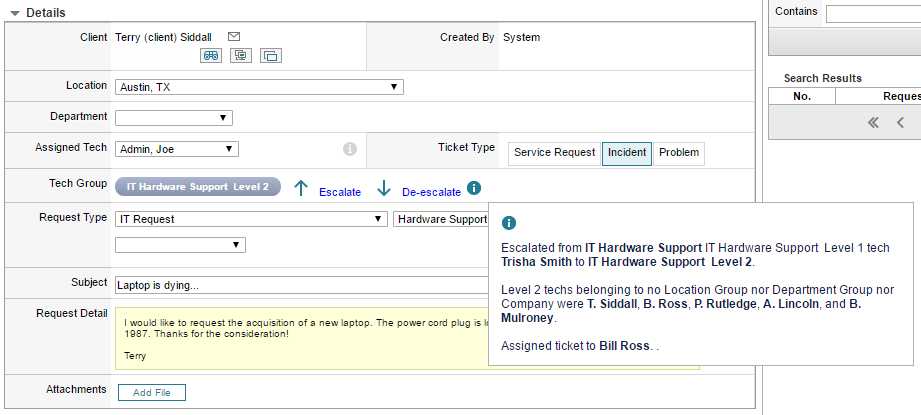 When the assigned tech is reassigned, Web Help Desk sends escalation or de-escalation emails to the current and former techs assigned to the ticket.
In the Tickets page, click the ticket you want to escalate.

In the Ticket Details tab, locate the Details tab.

Click Escalate to send the ticket to a higher-level tech group.

Click De-escalate to send the ticket to a lower-level tech group.

When you escalate or de-escalate the ticket to the maximum level, the Escalate and De-escalate icons disappear.

Click the History tab.

Review the ticket assignment history for accuracy.
---