Knowledge-centered support
Knowledge-centered support (KCS) is a set of practices that make information available and easily accessible to both clients and techs. With KCS, knowledge is considered a fundamental asset of the technical support organization. The goals of KCS include:
Improving efficiency within support organizations
Making customers self-sufficient
Reducing support costs while increasing customer satisfaction
When an organization implements KCS, content creation becomes an integral part of the support process. Each tech is responsible for contributing new content and updating or improving existing content.
When a tech receives a ticket, the tech searches the existing FAQs for a documented fix. If found, the tech follows the instructions in the FAQ and updates them accordingly if any steps have changed. The tech can also attach the FAQ to the ticket. If not found, the tech troubleshoots and resolves the issue, then creates a new FAQ to document the section.
Using
Web Help Desk

to build your knowledge store

Within Web Help Desk, you can use FAQs to capture solutions to common problems and make that information available. Techs can quickly create a new FAQ based on a note within a ticket, or they can manually create an FAQ.

As you increase the amount of useful information in your system, both clients and techs will be more likely to find the answers they need. Helping clients get answers from FAQs will reduce the number of tickets opened. Clients can provide feedback by rating articles. Use the article ratings to recognize and reward useful content and to improve content that is incomplete or inaccurate.

By default, only admins can edit approved FAQs. To implement the KCS process, consider including the Approved FAQ Edit permission in the Default tech permission set. When techs have this permission, they can update or correct FAQs as needed.
Accessing FAQs in
Web Help Desk
Web Help Desk promotes self-resolution by displaying relevant FAQs to clients as they enter service requests into the Web portal.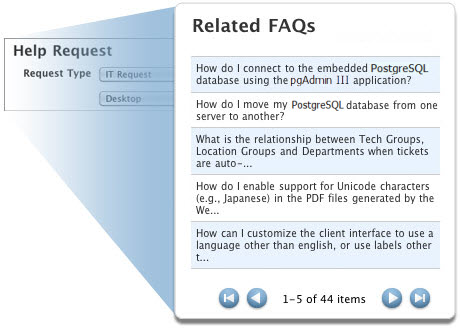 In addition, clients can search the FAQs that are available to them, view or edit an FAQ, and link an FAQ to a support ticket.
An FAQ can be available to all Web Help Desk clients, or it can be limited to a specific audience (for example, only to clients from a certain company).
---