Harvest integration
On this page
Introduction
SWSD offers integration with Harvest Time Tracking Software. With this integration, you can:
Manually or automatically track your time spent resolving incidents or service requests directly in Harvest.

Align time spent on a ticket with a specific project or task in Harvest.

Report on a combination of time spent working tickets with the other activities you track in Harvest.
Navigation
Setup > Integrations > Application Widgets.
Activate Harvest integration
Go to Setup > Integrations > Application Widgets.

Click Not Active next to Harvest to activate the integration.

Click Activate in the upper right.
All users will see Harvest on the Incident view page.
Use Harvest
From in incident, in the right pane, click the arrow next to Harvest.

Click Sign in to log in to your Harvest account.




Select the applicable project.

Click the dropdown arrow next to the second field, and select the appropriate task.
Enter Time
Under the project / task, you can enter time.
Manual entry: Enter the amount of time in the time box next to the text box, and then click Save entry. For example, if you worked 15 minutes on the ticket, enter :15 (or .15) into the text box.

Use a timer: Start the timer when you begin to work and stop it when your work is finished.

Let the timer run one full minute before you work on the project / task so it can properly reflect the time you spend on the ticket.
Log out
If you need to log out of the Harvest application, click Sign out.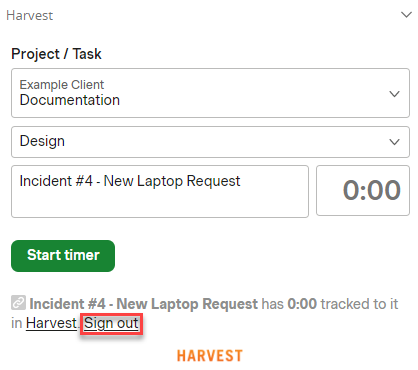 You are logged out of both Harvest and its integration in SWSD.
Related topics
---