Configure the Application Dependencies feature in SAM
To start monitoring connections between applications and application processes in SAM, complete these tasks:
This feature is automatically disabled during SAM upgrades to prevent performance issues in large environments. After you upgrade SAM, you'll need to enable this feature back again.
Before you begin
Before configuring the Application Dependencies feature, review these details about supported environments, settings, and monitoring limits.
Supported environments
SAM deploys agents and agent plug-ins to flag nodes for Application Dependency polling so machines must support Orion agent requirements. In addition, remote computers hosting applications listening on a specific port must support the following exceptions.
On the destination node, allow inbound TCP connections for the port, plus an inbound rule from any random remote port.
On the source node, allow an outbound TCP connection for the port from an Nping application on any random port.
Note the following details about supported environments:
Desktop operating systems such as Windows 8 and 10 are not supported.
Windows 2008 R2 and R2 SP1 with driver installation protection enabled are not supported.
Do not use on IPv6 or link-local addresses to communicate within the network segment (link) or the broadcast domain to which the host is connected.
Raspbian 8.0 is not supported.
Starting in SAM 2020.2, Linux distributions must support GNU C Library (glibc) 2.18 or later.
Required
Orion Platform

settings

Users with the Administrator role and the following Node Management rights can update Application Dependency polling settings:
Execute Application Dependency polling.
Deploy agents to nodes.
Enable "Allow automatic agent updates" on the Manage Agents > Edit Agent Settings page so you don't have to update plug-ins manually.
Recommended monitoring limits
For optimal performance, use the Application Dependencies feature to monitor up to 500 nodes. Recommended limits per Orion instance for monitoring dependencies include:
Application to application: 500
Application to node: 200
Node to application: 200
Average number of TCP connections per single dependency: 5
Recommended limits are not cumulative. For example, the number of application-to-application dependencies does not impact the number of application-to-node dependencies.
Orion agents hosted on minimally provisioned servers can consume high CPU usage during polling. If that occurs, reduce the quantity of monitored elements or increase server resources.
Enable Application Dependency polling
To enable the Application Dependencies feature:
Click Settings > Application Connection Settings.
Enable the Enable Application Dependency Polling option.
(Optional) Enable Connection Quality Polling.
Click Save changes.
If Application Dependency polling fails immediately after it's enabled, go to the Manage Agents page to check if an agent is currently being deployed. Wait 10 minutes and try polling again.
Deploy Orion agents to monitor application dependencies
SAM uses Orion agents and agent plug-ins to flag nodes for Application Dependency polling. An agent must exist on at least one of the two nodes where you want to display application dependencies. If Orion agents do not yet exist on nodes, the Incoming Connections widget on the Node and Application Details views displays sample data, as shown here: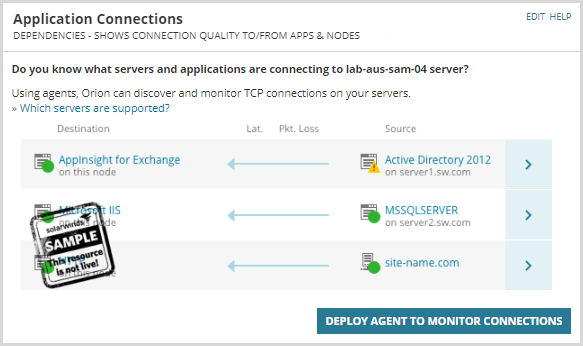 Click Deploy Agent to Monitor Connections to add Orion agents and agent plug-ins to a node.
You can deploy agents to multiple nodes at the same time on the Manage Agents page.
Assign application monitors to nodes
Assign Application Monitors (either out-of-the-box or custom templates) to nodes with the Add New Application Monitors Wizard. See Application Discovery.
You can also assign application monitors to nodes on the Manage Templates page.
Customize polling settings
To fine-tune application dependency polling and thresholds for your environment, use the Application Connection Settings page to:
Note the following details about the Application Dependencies feature:
Each dependency must involve two separate nodes.
Application Dependency polling does not monitor the Main Polling Engine (that is, the

Orion server

). Otherwise, polling would impact performance due to the multitude of connections involved.
You do not need to configure nodes for polling in advance. SAM deploys required agent plug-ins during Application Dependency polling and (if enabled) Connection Quality polling.
Set up Application Dependencies alerts
You can set critical and warning thresholds between applications for TCP connection packet loss and latency, both at a global and individual connection level.
To configure Application Dependencies alerts at the global level.
Click Settings > All Settings > Application Connection Settings.
On the Application Connection Settings page, scroll down to Threshold Settings.
Select Critical and Warning values for Connection packet loss and Connection latency.
Click Save Changes.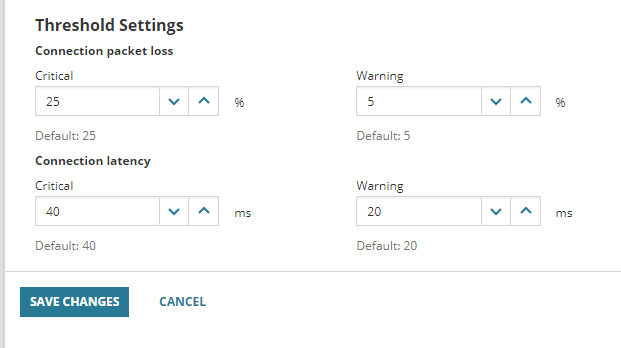 To configure Application Dependencies alerts for individual connections, navigate to a specific node, click Edit Node, adjust Alerting Thresholds, and click Submit. You can also navigate to a node's Connection Details page and select Thresholds from the Commands menu.
Use the Application Dependencies feature with Windows Failover Clusters (WFCs)
When used with WFCs, the Application Dependencies feature creates dependencies between connected clients and listening servers on the server side for a cluster Virtual IP (VIP) instead of the active cluster member.
Here is the required configuration for this scenario:
Only one agentless Orion node has an IP address that matches the virtual IP address of the clustered role.

Roles were called "Services and Applications" in SQL Server 2012 and earlier.

Each VIP node has a unique IP address to support the Application Dependencies feature's cluster-matching algorithm.
A SAM process monitor such as AppInsight for SQL uses an agentless node.
Application Dependency polling deploys agent plug-ins to agent-monitored cluster member machines so they can be assigned to non-cluster VIP addresses.
The following diagram illustrates an example of MSSQL running on a WFC: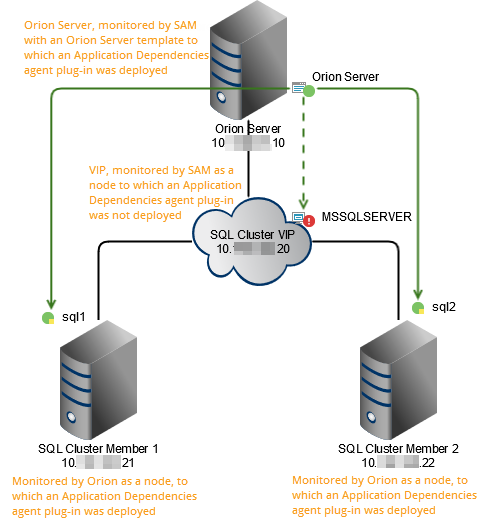 Note these details about this figure:
An agentless node has the same IP address, 10.140.126.20, as the SQL Cluster VIP role and AppInsight for SQL is assigned to the node.
The cluster has two members with unique IP addresses monitored as Orion agent nodes.
The Orion Server is monitored by an Orion Server template.
The Orion Server instance uses the cluster VIP address, 10.140.126.20, for the SQL Server data store.
SAM can detect the database connection from the Orion Server to the SQL database as a connection between an application (the Orion SQL Server, as monitored by a template) and AppInsight for SQL (MSSQLSERVER) even though the target of the database connection is SQL running on an active cluster member.
---