Log into the Orion Web Console to use SAM
As with all Orion Platform products, you can access SAM by logging into the Orion Web Console to do everything from adding nodes to discovering applications for monitoring, and setting up alerts.
In a web browser, navigate to http://hostnameOrIPAddress:port where:
hostnameOrIPAddress is the hostname or IP address of the main Orion server.
port is the Orion Web Console port defined during installation. The default port is 8787.
On the Orion Web Console login page, provide a User name and Password, and then click Login.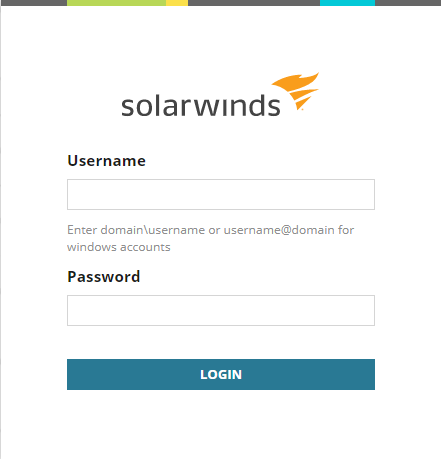 If you're an administrator logging into a new installation of SAM for the first time, you'll be prompted to add a password to the main Admin account. Afterward, SolarWinds highly recommends setting up users to ensure your data and network remain in your control. To learn more, see Manage Orion Web Console user accounts and Secure Configuration for the Orion Platform
---