Certificate monitoring in Uptime checks
Availability: All plans, HTTP(s) Checks
Certificate monitoring, sometimes referred to as SSL monitoring, is available for Uptime HTTP checks when HTTPS is selected when setting up a check.
HTTP checks will automatically monitor for certificate errors when you monitor a secure site. It will alert on all types of certificate errors (see https://badssl.com/ for some great examples).
If you would like to disable this you can find the option to turn it off under the optional check settings. 

Expiring monitoring
By default, you will be notified on the day your certificate expires, but this is also possible to change under the optional settings.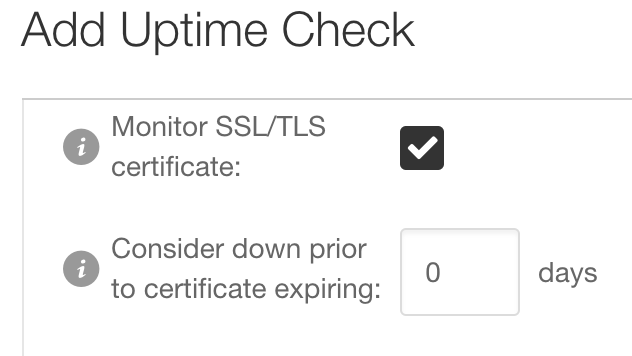 Here you can configure the number of days before the expiring you want to receive an alert. When the expiration day is reached the check will be marked as DOWN and an alert will be sent.
Since the check will be marked as down from this day until the certificate expiring date once again exceeds the given number of days no other types of issues will be detected during this time, we recommend setting up a separate check for the purposes of expiring monitoring. 
Note: This feature will only become available if you selected https:// in the URL/IP under Required tab.

When the APM Integrated Experience is enabled, Pingdom shares a common navigation and enhanced feature set with the other integrated experiences' products. How you navigate the product and access its features may vary from these instructions. For more information, go to the APM Integrated Experience documentation.
---