Resolve IP address conflicts with IPAM and UDT integration
Integration with UDT and IPAM is available with UDT v 3.2 and IPAM v 4.3 or higher. If you are running both products, the built-in integration provides a view of end-to-end mapping of an IP address to any connected user/device, along with the device port and connection details in the same window. If you are running UDT v 3.2 and IPAM v 4.3 or higher, no actions are needed for integrating the two products: IPAM will automatically detect if UDT is installed and add UDT users and switch port columns to your IP address view.
The following screen shot shows the display presented in the IPAM Manage Subnets & IP Address widget when IPAM and UDT are integrated.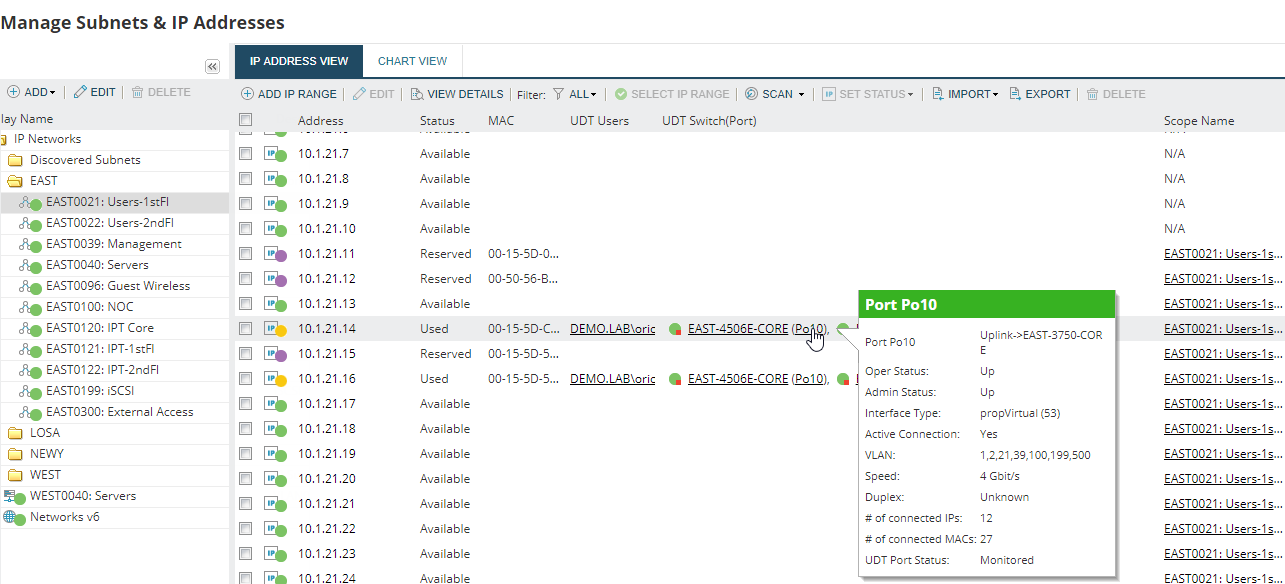 Integrating IPAM with UDT can help you troubleshoot in the following ways:
Find out which user or device is accessing a particular IP address
Drill down to get network connection history for an IP address
Show port and user information related to an IP address or host DNS assignment
View port usage and capacity on every switch
Detect endpoint devices having IP address conflicts
Shutdown a port through the web interface
Address conflicts are shown in the IP Address Conflicts widget on the IP Address Manager dashboard.

Click on the IP Address to display more information about the conflict.

If you need to resolve the conflict immediately, click on the node port. The UTP Port Details page is displayed.
Click Shutdown in the Port Details widget.
---