View the status and history of DPA alerts
View current and previous statuses of DPA alerts. You can select alert history records to purge from the logs.
On the DPA menu, click Alerts.

The Alert Status tab shows information about the most recent evaluation of each DPA alert against each database instance. It includes the alert status (for example, High, Normal, or Inactive), the current value, and the last time the status changed.

Scan, sort, or filter to find the alerts you are interested in:

To filter the list of alerts, choose a database instance from the drop-down menu in the upper-right corner.
Click a column heading to sort the list of alerts by the value of that column.
Click the name of the alert to open it for editing. See Configure a DPA Wait Time alert for information about the available options.
Display alert details
Click the Details button to display additional information about an alert's definition, last execution time, current value, and history.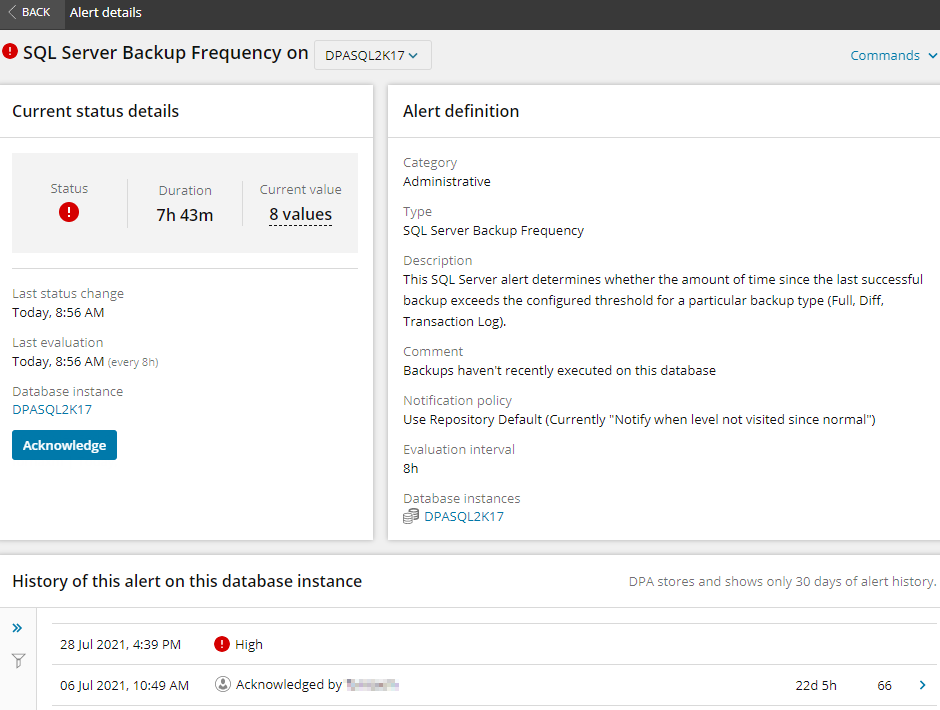 View or purge alert history
Click the History button to display up to 5,000 lines of alert history. By default, the Alert History page lists the results of evaluating the alert against the database on the associated line of the Alert Details tab.
To change the default display:
Select the desired values for Status, Date Range, Number of Records, and Database Instances.
Click Apply Filter.
To purge alert history records:
Use the Status, Date Range, Number of Records, and Database Instances fields to identify the records you want to purge.

To purge all history before a certain date, enter that date as the End Date and leave the Start Date blank.

(Optional.) Click Apply Filter to verify that only the records you want to purge are selected.

Click Purge Log, and then click Yes at the confirmation prompt.

All records meeting your criteria are removed.
---