Incidents Management reports
Analytics reports in SWSD help you better understand the health of your ticketing/IT service management processes and overall IT environment. You can gain better insight by slicing and dicing the data provided from the incidents in SWSD.
SWSD offers a variety of reports that focus on specific fields of interest.
Navigation
Analytics > Reports.
Available Incidents Management Reports
Each report acts as a template and provides a description of the contents and how the information can be used.
Incidents Over Time
The Incidents Over Time report provides a view of how many incidents were created/assigned/resolved/etc., per chosen time frame, stacked by your field of interest.
This information can be used to answer questions such as:
What is the weekly volume of incidents trend that were created per each Site?
How many incidents each agent resolved per month and how do they compare to each other?
This report can be grouped/stacked by the Closed By field.
Incidents Volume Breakdown
With this report can you slice and dice incidents based on two fields of interest. The information can be used to answer questions such as:
What is the open incident's Category distribution, per each agent?

How does each agent queue looks like when broken into the incident's States (as an example)?

What are the most popular service catalogs that were used in each site?
This report can be grouped/stacked by the Closed By field.
Incidents Age Distribution
The data in this report helps you determine whether your ticket distribution for open incidents is healthy.
Incidents Statistics Over Time
The information in this report can be used to answer questions such as:
How many incidents, per chosen time frame, have been reassigned based on their category?

How many incidents, per chose time frame, were opened from a closed state, per each department?
Incidents Throughput
View how many incidents, grouped by your field of interested, were crated, closed, or remained open in a chose time frame. This information can be used to answer questions such as:
What does my agent's performance and output look like?
How many tickets per agent are still open?
Should the load balancing be re-evaluated?
Understand the Incidents Throughput report
The Incidents Throughput report displays information based on the selected timeframe:
Open incidents at beginning of timeframe
Incidents created during timeframe
Incidents closed during timeframe
Remaining incidents at end of timeframe
The percentage shown at the bottom is based on the number of incidents created during the timeframe divided by the number of incidents closed during the timeframe. For example, if the Facilities team had four (4) new incidents created and assigned during the last 90 days and they closed one (1), the Incidents closed during time frame would display 25% (1 is 25% of 4).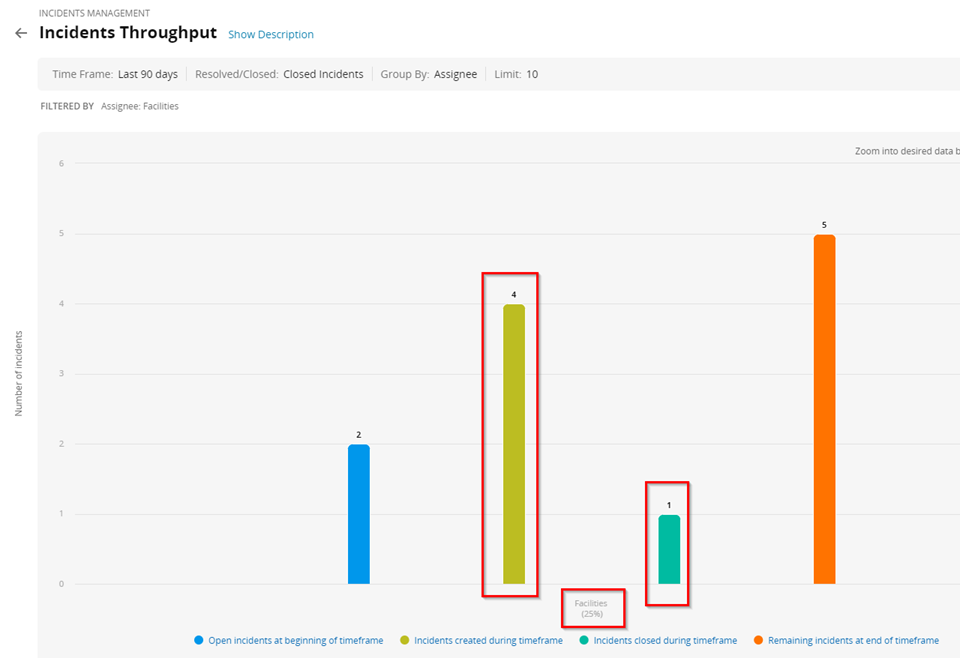 Created/Resolved Trend
This report provides an extension of the data collected in the Incidents Over Time report. With this report you can view how many incidents were created, closed or remained open per time frame.
This information is valuable when answering questions such as:
When am I receiving and/or resolving the greatest amount of incidents?

Do I have too many tickets to handle efficiently in the time allotted?

Am I increasing or decreasing my debt?
The trend reports allows you to analyze the trends by combining two time scopes into one report:
Created Over Time
Either Resolved Time or Closed Time
Understanding the data
Notice the results reflected in grey. The grey identifies how many incidents were open during the resolution period (day/week/month).
Calculating the data
For each incident there are two timestamps:
Creation date
Not Open date
Not Open date is calculated as follows:
The time the incident was resolved
The time the incident was closed
The time the incident was opened and closed
Define Open Incidents:
When the creation date is before the end of the resolution period and

The 'not open' date is after the beginning of the resolution period
Therefore, an incident that was closed on a certain date may not be taken into account due to the resolution date, however there are also incidents that are closed yet not resolved (such as Open as closed or those closed via the API).
By focusing on all open incidents across your organization over a period of time, you can drill down into specific incidents that have been open for an extended period.
Use this report to analyze your team's workload and understand whether you're carrying debt. In addition, this report can help ensure that older incidents are quickly resolved and are not forgotten.
Heatmap
View this report to view the distribution of the created incidents over the hours of the week.
Service Catalog Custom Fields
This report helps you understand the selections end users are making (fields) in each service catalog item, and how the selections change over time. It can be used to answer questions such as:
Which computers were ordered each week as part of the 'New Employee' SC?

Which application required the most password resets in each month?
Related Topics
---