Reports - Time Centric: Service statistics over time
On this page
Introduction
If you are a manager of an IT team, the Service statistics over time report can be of benefit to you.
Navigation
Analytics > Template > Time Centric > Service Statistics Over Time
Report analysis
The Service Statistics Over Time report provides clear visibility into the quality of service your team is delivering. By highlighting drops in service as well as potential positive increases in service deliveries you can see trends over time and make decisions based on the details provided.
For example, you can ask yourself the questions below and get the answers you need.
| Question | Answer |
| --- | --- |
| After my team completed a training, did their performance improve in ticket resolution by meeting more SLAs? | You can determine whether the training was beneficial or further training is required. |
| At what state in the incident lifecycle does an incident spend the most time? | You can determine which state takes the most time to complete, for example, New, Assigned, or Awaiting Input. |
Example
The information below will help you maximize your understanding of the benefits of this report.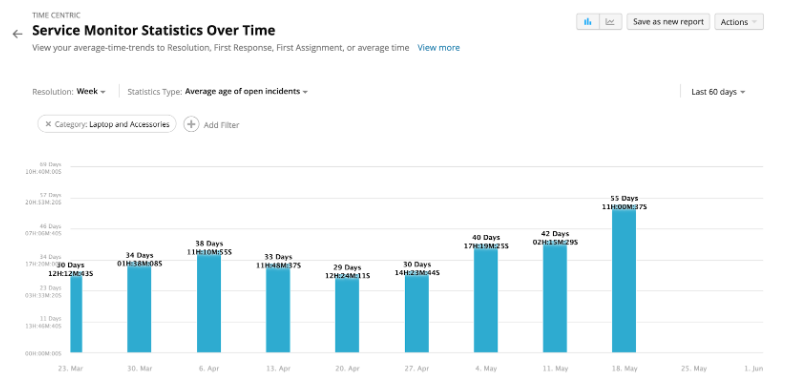 Notice the bar graph of the report above.
As you can see, the average age of open incidents is increasing significantly as time passes. This trend requires further investigation. You can:
Generate additional views based on different statistics.
Compare groups across over the timeframe via the original service statistics reports.
Review the incidents reflected in the problematic bar by clicking on the column of interest.
The report does not take into account "Open as Closed" incidents (also known as "one touch" incidents).
Related topics
---