About installing or upgrading Orion Platform products and scalability engines
Use the information in this guide to install or upgrade Orion Platform products and scalability engines.
About the Orion Installer
The SolarWinds Orion Installer is an all-in-one application for installations and upgrades. You use the same installer to:
Determine your upgrade path and check environmental specifications before you install or upgrade.
Install or upgrade multiple Orion Platform products.
Install or upgrade scalability engines (Additional Polling Engines, Additional Web Servers, and High Availability servers).
Click the following image for an overview of the installation process: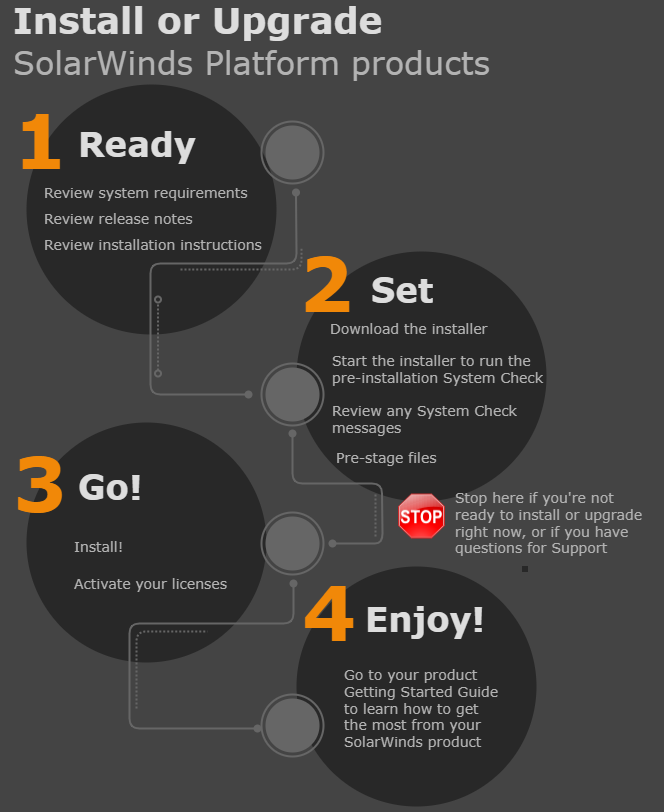 The installer:
Provides an easy-to-follow installation path for your environment, and guides you through every product installation and upgrade. The installer checks for product updates, and then presents installation steps to complete complex upgrades and installations with ease. No need to figure out your upgrade path before you begin. The installer does it for you.

You can run the installer at any time to determine your upgrade path, even if you're not ready to upgrade yet. This step does not affect any existing Orion services.

Runs preflight checks to ensure your environment specifications match the system requirements for selected product installations. If you need to make any changes, the installer provides guidance to resolve the issues.

Automatically runs the Configuration Wizard as needed after product installations to complete database and configuration tasks.

Checks for scalability engines that also need to be upgraded. If the scalability engines are reachable, the installer minimizes upgrade time by upgrading in parallel.

To enable the primary Orion server to reach your scalability engines, do not stop the SolarWinds Administration Service on your scalability engines before the upgrade.
How do I get the Orion Installer?
When you download an Orion Platform product from the Customer Portal or from www.solarwinds.com, the Orion Installer is included in the download.
The name of the downloaded .exe file reflects the product that you downloaded, but you can install or upgrade multiple products.
For example, when you run Solarwinds-Orion-SAM.exe to install SolarWinds SAM, SAM is selected by default. But you can select other products as well. In most cases, you need to download only one SolarWinds Orion Installer, even if you plan to install or upgrade multiple products.
If you have an online Orion deployment, you can upgrade Orion Platform 2019.2 and later products from the Orion Web Console without downloading the installer. With Orion Platform 2019.4 and later, you can add new products to your deployment from the Orion Web Console. See Perform a centralized upgrade of an existing Orion deployment (2019.2 and later deployments).
What you should know
Each time you run the online installer, it checks for product updates and provides the latest Orion Platform product versions.

If you have older versions of products, you can still use this installer for upgrade paths, download links, and links to release notes.

You can save an installation report to capture specifics about your progress and any issues that the installer encountered.

All products are upgraded to the latest compatible versions when possible. If a product is not compatible with the latest Orion Platform version, you cannot continue with the installation or upgrade. The installer provides resolution options.
Always have the latest Orion Installer
If you are using the online installer and your server has an Internet connection, the Orion Installer automatically checks for updates and downloads the latest available version.

If you see a progress bar for an Orion Installer update, let it continue. When the download is complete, the new and improved installer starts automatically.

If you are using the offline installer, or if your server does not have an Internet connection, the Orion Installer cannot check to be sure you have the latest version. In that case, you should check the Customer Portal to make sure you have the latest version of the installer.
---