Setup order
On this page
Introduction
To help you get your instance of SolarWinds Service Desk (SWSD) up and running as quickly as possible, SolarWinds provides the list below. It contains the minimal steps required to configure SWSD. For a more complete set of instructions on how to perform an initial set up of SWSD, see Administrator setup guide and its related topics.
Order of Setup
Step 1: Initial Login
Open SWSD.

Enter your account email (which is your login ID) and password.

After accessing the SWSD as an administrator, use the navigation pane on the left. Scroll down to the cog at the bottom and select Setup.
Welcome
Welcome to your SWSD Setup Home landing page.  You can navigate by using the pane on the left or by clicking a tile on the right.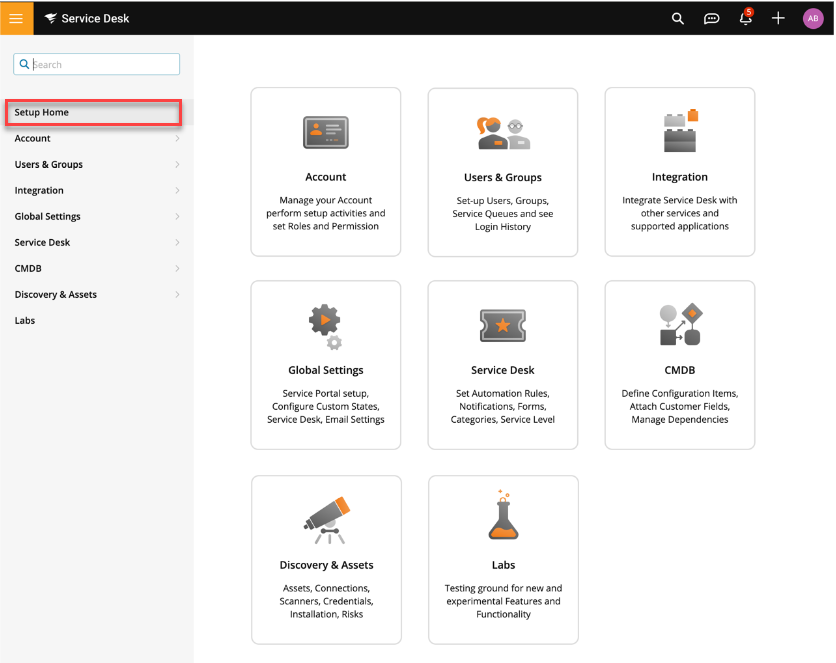 For information about managing multiple accounts, such as separate accounts for HR and Finance, see Manage multiple accounts.
Step 2: Set up sites and departments, time zone, and default language
Navigate to Setup > Account > Organizations & Sites.

Enter time zone and default language.

Set up sites (your organization's physical locations).

Set up departments (the departments within your organization).
It is important to establish the site names you will use before setting up your user accounts in Step 4. And if you choose to use provisioning for your setting up user accounts, the site names associated with your user accounts must exactly match the names listed in your sites list. For example, if you have a site named New York City, you could not use NYC in a user account because NYC does not exist in your list of sites.
For more detailed information, see Organization & sites.
Step 3: Set up categories and subcategories
Navigate to Setup > Service Desk > Categories.

Select the appropriate tab:

Incident/Service Requests
Changes

Click Add category on the right.

Provide a name, select a default assignee from the dropdown list, and comma-separated default tags.

Optionally, create an email dropbox.

An email dropbox can be used to directly route incidents to a specific email address. See Category dropbox emails for more information.

Click Create.

After creation is complete, refresh the Categories index page. The list of categories will automatically resort into alphabetical order.
For more detailed information on creating categories and subcategories, see Categories.
Step 4: Set up users
You can choose to set up your users manually, via import from a csv file, or through integration with an Identity as a Service (IDaaS) partner such as Azure, Active Directory Federation Services (ADFS), OKTA, or OneLogin.
If you choose to import from csv or use an IDaaS partner, it is important to perform a cleanup of the IDaaS partner database before importing or integrating.
For more information on each setup method, see Users.
Step 5: Set up roles and permissions
You can choose to use only the four out-of-the-box roles and their permissions, or you can clone roles to create your own custom roles.
After all of your roles and permissions are in place, you need to assign a role to each of your user accounts.
For more information, see Roles & permissions.
Step 6: Establish email settings
An email dropbox is set up for your organization after the account is set up.
If your employees already have a company email address they use for submitting incidents, set up a forwarding rule to send those emails to your dropbox.

Navigate to Setup > Account > Email Settings, and add that same email address your employees are using to the reply email address field.
For more detailed information, see Email settings.
Related topics
---