CMDB
It is important to understand the relationships and dependencies of your assets to understand how they impact everyday organizational operations. When you implement a CMDB, you are able to take your IT productivity to another level by integrating the CMDB to key ITSM processes. The goal is to assist IT professionals proactively deliver services to their users by improving key IT service management processes.
What is a CMDB?
A CMDB (Configuration Management Database) stores all information about the technological components used by an organization as well as the relationships between these components. The database is organized in a way that clearly defines the relationships and dependencies of the components stored. Each component is defined as a Configuration Item (CI) and is often associated with other CIs to show how the CIs work together to help deliver IT services.
How your CMDB Works for You
As technology improves, expands in capabilities, and becomes more complex, it makes understanding your IT infrastructure that much more important. Similar to any highway you travel to get to work, if there is construction occurring on your route, you would like to know as early as possible, so you can find yourself an alternate route or leave earlier to ensure you give yourself ample time to sit in traffic on your way to work.
The CMDB can predict behavior and ensure you minimize and even prevent issues that can lead to downtime in your workday.
As a best practice, your IT professionals can identify, manage, and improve how each component that makes up your IT infrastructure impacts key IT service management processes such as Incidents, Problems, Changes, Releases, and Configuration Management. For example, a planned operating system upgrade to an application server will definitely cause downtime. With proper understanding of your CMDB, IT professionals can quickly and accurately determine which systems (additional CIs such as business services or applications) will be affected. This information is most helpful in determining when to schedule the upgrade at a time that will minimize the negative effects on employees and business processes.
Major Tasks of your CMDB
The CMDB can lead to more proactive service delivery by increasing your visibility into the technological landscape of your IT community. This leads to:
Overall improvement of your IT service management processes.
The streamlining of change management through a deeper understanding of change impact.
Faster incident resolution through rapid analysis and diagnosis of root causes.
Improved problem resolution.
Steps to success:
Identify the CIs that will make up your CMDB.

You don't need to define every device. Begin with mapping out the IT backbone of your organization (this can be achieved by using

SolarWinds

Discovery).
Include the dependencies between CIs.
Associate these CIs with relevant ITSM items such as incidents, problems, changes, and releases.

Ensure proper levels of control.

Only authorized individuals should have access to and the ability to make changes to the information collected (ensure security).

Maintain automatic updates of all CIs in your CMDB via integration with SolarWinds Discovery.
Getting to Know your SolarWinds CMDB
The SolarWinds CMDB data model has a parent/child hierarchy and provides out-of-the-box CIs. You can also create additional custom CI types to ensure your data model accurately reflects your physical and virtual IT infrastructure. You first define your CIs, then use the SWSD CMDB data model to assist you in defining the relationships and dependencies of your CIs.
The CMDB data model is built so that each CI type inherits the layout and fields of its parent CI type. This allows for time efficient customization of the data model to meet each organization's business needs. For example, when you add a custom field to the System CI type layout, that field will appear on all of its child layouts as well, such as computer, network device, and router.
Navigate to Setup > CMDB > CI Types. The Configuration Item Types index page displays. (For more information on index pages, see List View.)
Your Custom CI types are stored in Legacy.
You can also see CI hierarchy on this page. CIs types with a chevron to the left have at least one child CI type. Click on the CI type to expand the list of child CI types.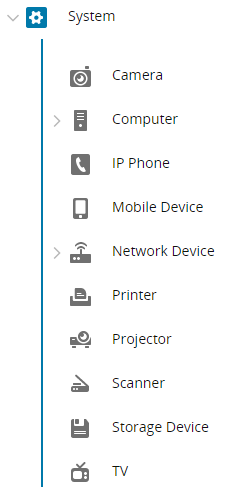 CI Legacy and Hierarchy of your CMDB
The CI Legacy is where you will find all custom CIs you have previously created.
The CI hierarchy has also been defined. The chevron on the right reflects that the CI type has a child CI attached.
When you select a CI with a chevron, a list of child CI types is revealed.
For example: Click on the System CI
Hover over the CI and click the
icon. Notice some fields possess a gray background which lets you know the are out-of-the-box and cannot be altered, while custom fields that you have created have a white background and can be modified to meet your needs.
You can then:
Edit the name and description of your CI

Add custom fields
Edit the CI type layout by hovering over the CI and selecting the appropriate icon:

Add a custom field via drag-and-drop from the custom fields pane on the right

Remove custom fields via the trash icon

Change custom fields to be mandatory or optional

Move a custom field directly from the layout to another CI type
The layout editor shows you all layouts the current CI type inherits from the hierarchy.
Only the current layout can be edited. For example, when editing the Network Device CI, you will not be able to simultaneously edit the System CI section.
You will only have the ability to move fields to a CI type that does not have the field in its layout or inherits the field from a parent type.
Create a New CI Type
Hover over any CI type and click the
icon to create a new child CI type. For example: When a new service is offered, hover over the Service CI and click the
icon to add the new CI to the parent CI.
Disable, Move and/or Remove a CI Type and its Branch
There are additional actions you can take to customize your CMDB by hovering over a CI type.
You can adjust the data model to meet your needs. If you currently don't want a specific device type, you can disable that type until the time that you need it.
Disable: Disable a specific CI type and prevent users from creating instances of that type

Disable all: Disabling a CI type and all of its child types and prevent users from creating instances of these type.
Out-of-the-box CIs cannot be moved or removed, however custom CIs (CI types that you have created) have additional options:
Such as:
Remove: Deleting a CI type from the hierarchy. This action cannot be undone. When there is data associated with the CI type you wish to delete, you will first be prompted to delete the data and only once deleted will you be able to delete the CI.
Move: Moving a CI type and its children across the hierarchy. In order to move a CI type, you will be prompted to select a new parent.

When moving a CI type in the hierarchy, it will inherit its layout from the new parent. For example: If you move the CI computer from System to Other Asset, the data will be maintained however, however the custom fields specific to the System hierarchy will no longer be reflected. Therefore you must manually move any additional fields.
Moving CI types across the hierarchy does not delete any field.
Visual Map
To increase visibility of your IT infrastructure, our Enterprise plan includes a CMDB Visual Map. With a clear visualization, you have a greater understanding of the dependencies and how these relationships can impacts dependent CIs. See CMDB Visual Map for more information.
Attaching CIs to ITSM Processes
As previously explained, one of the goals achieved by maintaining a CMDB is the ability to improve key IT service management (ITSM) processes. As you connect between your CIs and ITSM processes such as Incidents, Problems etc., you gain a better understanding of the CIs you depend on and how they work together. This helps ensure continuity of services. An additional benefit in maintaining a CMDB is that data collected assists in determining the root cause of and issue or an impact of a change.
You are unable to attach an ITSM object to the CI software.
For example: You can streamline Change Management processes based on data collected from your CMDB. You have the ability to analyze the impact and risks prior to determining changes.
The next step is to connect CIs with current Incidents, Problems, Changes, Releases, Computers and/or other ITSM processes.
To achieve this:
Open an ITSM object.
Hover over to the Configuration Items section and click Attach.

Select the CI(s) you wish to attach.
An additional method:
Navigate to Service Desk > CMDB > and select a specific CI.
Select an ITSM object such as Incident, Problem etc., and click Attach.
Select the specific ITSM processes you wish to attach.
Related Topics
---