Send Notifications
When a stakeholder makes a request for a new asset or any other change, they have an interest in knowing:
What the process is once a request is made

Updates throughout the process

Understand how long the process may take
To make the transition as smooth and time efficient as possible, your SWSD provides information on Change Management to help in automating processes your organization may encounter when a change is necessary or request is made.
For more information click on the links below:
The Send Notification option is one of the many features of your SWSD that aids in visibility of processes for all stakeholders via an email notification within a change request or service request workflow.
These notifications can be sent either through an ad-hoc email or a generic email template. Both of these notification types can reference variables.
Below are the best practices for setting up your Send Notifications to work most efficiently for you.
Best Practice
Below is a hi-level explanation as to what goes on behind the scenes once you, or someone else in your organization makes a request.
Planning - Change is a process involving a number of steps:

Request made - For example, request for a new laptop
Approval/denial - What to do when request is approved/denied

Process based on request status

If approved, send to IT to place order, get financing approval and reach out to supplier.
If denied, send notification to requester with denial notice and steps to take

Create prerequisites - Within a predefined workflow, there will be stages requiring managerial approval and stakeholders that are interested in knowing where the process stands every step of the way.  To ensure key players stay informed, we offer the Send Notification option.

You may need to contact your administrator for assistance with the setup menu.
Hover over the icon and select Setup, navigate to Service Desk and click Email Customization.
Scroll down to Email Templates and Custom Email Templates. (In Custom Email Templates notice the Generic Email Template that allows you to define any need in your organization).

Provide the Email Template name (you can add variables from the Service Catalog)

See a sample notification template below:

See a sample notification letter below:

Now that all prerequisites have been accounted for, you can create a detailed workflow.
You are now ready to submit your request.
Email variables
Variables can be used in any email. When you select a tab a list of the variables displays on the right. From there you can copy any variable by hovering over the variable name and then clicking Copy to the right of the variable.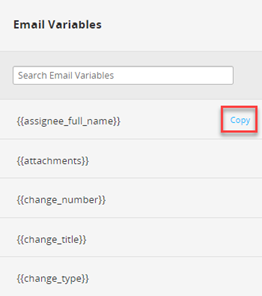 The following variables are available:
{{assignee_full_name}}
{{attachments}}
{{change_number}}
{{change_title}}
{{change_type}}
{{department}}
{{event_initiator}}
{{event_initiator_email}}
{{event_initiator_phone_number}}
{{event_initiator_title}}
{{incident_category}}
{{incident_description}}
{{incident_number}}
{{incident_number_link_to_incident}}
{{incident_origin}}
{{incident_priority}}
{{incident_title}}
{{last_updated}}
{{main_event}}
{{received_at}}
{{requester_email}}
{{requester_last_name}}
{{requester_phonenumber}}
{{samanage_link}}
{{service_desk_logo}}
{{servicedesk_name}}
{{site}}
{{solution_number}}
{{solution_title}}
{{state}}
Related topics
---