Service Portal
Overview
Your service portal is a one-stop shop designed to provide your end users with valuable information and resources to help find answers and resolve issues. Users can view knowledge base articles, submit incidents and service requests, and track the status of previously submitted tickets.
SWSD uses artificial intelligence algorithms to offer connections between articles, solutions, and relevant tickets based on keywords and phrases entered by the user.
You can fully customize the portal to provide the look and feel of your organization so your employees know they have reached the correct resource. You can upload your own logo, change titles and messages displayed across the portal, and enable certain fields on the new incident or service request form. If can also provide your users with special instructions.
Administrators can grant users access to the portal using one of the methods below:
Create your users in advance and grant them the Requester role, which allows them to use the Service Portal. They will receive an email with activation instructions. See Users for instructions on creating users. See Roles & permissions for instructions on granting the Requester role.

Ask your users to join the portal by clicking the Join the portal link on your account's home page.

Create users via email. When your users communicate with the service desk via email, a portal user id is automatically created for them. To retrieve their password, they can click No password? on your account's home page.

Via single-sign-on. If your account is configured for SSO, you can select to have your user accounts automatically created in your service portal when they log in via SSO.
See your service portal URL
Navigate to Setup > Global Settings > Service Portal to see the URL for your service portal.
Configure your service portal
To configure your Service Portal, navigate to Setup > Global Settings > Service Portal.
Customize the look and feel
You can customize the look and feel of your SWSD service portal.
Customize search image
You can define the search image that appears in the search component of the portal. See Portal Designer for more information.
Customize messages
You can customize the following messages.
Welcome Message is a message that appears in the search component on the portal homepage. See Portal Designer for more information.

Main Message is seen by all users and can include formatted text, images, and links.

For example:

See Portal Designer for more information.

Announcement Message is used to provide special updates. It can be published to the Service Portal. See Announcement Message for more information.
Highlighted and popular solutions
You can offer your users quick access to previously successful solutions and services that are shown on your portal home page.
Setup
The first thing you see when you navigate to Global Settings > Service Portal is the URL for your service portal. Directly below that you can see two links:
Go to Portal allows you to see your progress as you build your portal.

Portal Design Guide takes you directly to the document you are reading now.
Both links can be helpful during the setup of your service portal.
Below the links is the Open designer
button, which takes you to the tool you use to customize your service portal. From there you can also click Portal Homepage Designer
to return to the setup page.
Logo
Your logo can appear in several places throughout your service desk. Navigate to Global Settings > Service Portal > Logo for details about the image, for example, pixel reduction and maximum file size. There you can also upload your image.
After you select an image, you can remove and/or change it as desired.
Favicon
The favicon icon appears on the tab in your browser.  Navigate to Global Settings > Service Portal > Favicon for maximum file size and to upload your image.
After you select an image, you can remove and/or change it as desired.
Colors
Customize the navigation bar to match your company branding.  Select a primary and secondary color and preview to ensure your satisfaction. Navigate to Global Settings > Service Portal > Colors to see more information about colors.
Using a color box with scroll bar option on the right and a selection dot on the left, you can set your:
Header background
Navigation background
Navigation icons
New ticket background Color
New ticket text color
Sign in text color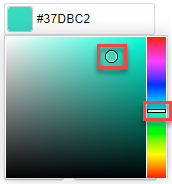 After you make your selection, you can reset to default, preview, and update.
SolarWinds
recommends documenting your selected color before you reset to default or select a new color. Reset to default will not reset to the color you previously selected.
Announcement Message
If announcement messages are active, you can use them to provide users with special informational updates. You can enter the announcement text and choose whether to publish to the Service Portal.
You can update the message a frequently as you like. Updates are effective immediately.
Allowed Domains
To manage creation of accounts in your Service Portal, you can enter specific domain names. This will prohibit anyone with a foreign domain from creating an account within your Service Portal.
If this field is not defined, any user will be able to create an account (not recommended).
If you would like to list multiple domains, separate each with a comma.
Menu Navigation
The table below assists in setup of visible and non-visible fields. You can create relevant menu labels (or reset to default), and select visibility and the order in which you would like the information to appear.
The first column labeled Use reflects whether a field is visible. The first three rows are greyed out; these three pages cannot be hidden.  The bottom three rows are optional and can be hidden by deselecting them.  This determination is based on your utilization of solutions content and service requests. If you make any changes to the fields or their order, click Update to save any changes made or Reset to default.  
Functionality
Additional features in the Menu Navigation section relate to the way your employees interact with the SolarWinds Service Portal. You have various options for customizing the functionality that your employees are given. For example, you can hide or unhide selections like category, priority, and due date or give them the ability to mark their own requests as resolved.
Signup Message
You can add a custom message that appears on the portal signup page.
Incident Fields Settings
In the New Incident page, you can create a custom incident header field label. For example, you define the title.
Notice the Category and Subcategory sections. It is important to select a category. At times the end user may not understand which subcategory is most relevant. The category and subcategory sections are independent of one another, which allows an agent to review the details of an incident prior to determining the subcategory.
For new incidents and new service request pages there are a number of fields that you must define as visible and/or mandatory.
The fields are:
Site
Department
Priority
Attach files
Due date
Service Catalog
Select the page layout for your Service Catalog.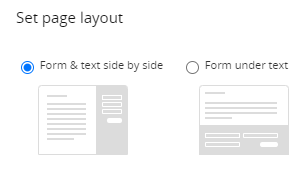 Review every section in the Setup of your Service Portal to ensure you have customized the best look and feel for your organization. 
Notice the toggle pills at the bottom. Select On to trigger one or all of the options such as:
Portal users can mark requests as resolved.

Allow portal users to submit an incident on behalf of other users.

Only on behalf of users they report to.

Allow to request selected change catalog items from the Portal, and to have Change Categories.

Allow end users to sign up for portal.

While some customers use the service portal solely to assist and engage with their employees, there are many customers who utilize it to engage with external customers as well. When using the portal to communicate with external customers, admins may want only employees to have access to the portal. This is achieved by opening an account for each user during the onboarding process. There are cases where an end user can open their own account through the portal's login page.
As customer needs vary, and even in the case of internal employees - requesters are not always aware that they have an existing account and inadvertently end up creating additional accounts.

When the toggle is turned off, the link to create a new portal user on the login page will not appear. This ensures no end user can create a new user utilizing an email address not managed by your administrators.
Allow users to request selected change catalog items from the Portal, and to have Change Categories.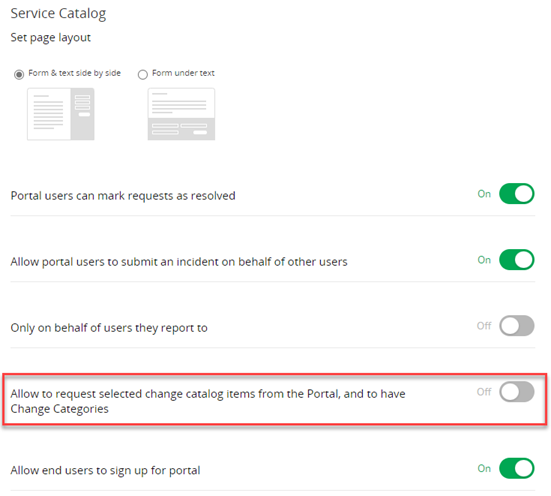 Only CCIs in an Approved state can appear in the portal
Step 1: Turn on option.
Navigate to Setup > Global Settings > Service Portal.

 Toggle the Allow to request of selected change catalog items from the Portal... to On.
Step 2 (Optional): Configure Custom Fields.
If you would like selected custom fields to be shown in the portal, mark the Show on portal check-box.
Navigate to Setup > Service Desk > Custom Forms.

Enable the checkbox to Show on Portal.
Step 3: Set Permissions.
In order for the Requester and/or Service Task User roles to have access to select CCIs in the portal, you must enable the proper permissions.
Navigate to Setup > Account > Roles & Permissions.

Enable the permissions as shown below for both the Requester and Service Task User roles.

Subject: Change Catalog
Action: Read
Scope:

State: Approved
Site and/or Department and/or Category and Subcategory
After these permission are granted, requesters and service task users can see and request the relevant CCI directly from the portal.
Step 4: Set visibility.
Navigate to Service Desk > Change Catalog.

From the Change Catalog All Items index page, click the approved change catalog item (CCI) you want users to be able to request from the portal.

In the upper right corner, toggle Show in Portal to On.

Determine whether you want the three phases of the plan (change plan, rollback plan, and test plan) to be visible in the portal.

If yes, hover over a plan, select the ellipsis icon, and toggle Show in Portal to Enabled.

Scroll down under Test Plan and hover over Highlighted Service until the Edit (pencil) icon appears.

Select the icon, and then check the box. The CCI will appear in the portal home page under the Highlight Service section.
Custom Google Analytics
Track your portal adoption by adding a Google Analytics Identifier (UA-*).
Related topics
---