Custom Fields
Custom fields let you add fields in various modules of SWSD. Creating these additional fields (which can aid in further data collection), is all done with click-drag-drop actions.
Use case
When administrators identify the need to collect additional information, they can add fields to Custom Forms. This reduces back-and-forth, time-consuming correspondence between technicians and requesters.
For example, in situations where an end user completing a ticket about their computer selects the category: hardware, and then selects the subcategory: laptop, an administrator could add custom fields for additional prompts. A custom field could prompt for data such as the type of laptop, or perhaps it could deliver an automatic response such as, "Have you tried restarting the laptop?", which could then prompt the user to respond Yes or No.
Set up custom fields
You can create a variety of field types for more flexibility and help text to provide more guidance to requesters. You can incorporate aids such as text, dropdowns, check boxes, date and time, and even user selections.
Navigate to Setup > Service Desk > Custom Fields.

Click Add .

Enter the mandatory information identified by a red asterisk (*).

Optionally, select a scope and/or add help text.

Click Save.
Let's look at an example below: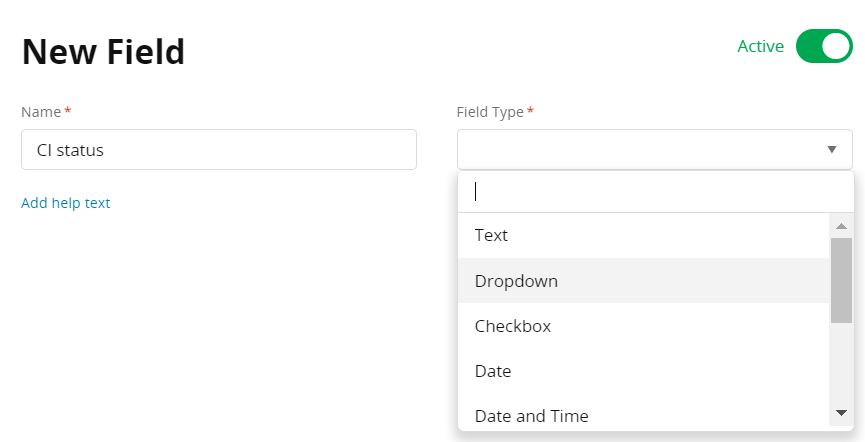 When a field is populated with CI Status, the user is prompted for additional information from a dropdown menu.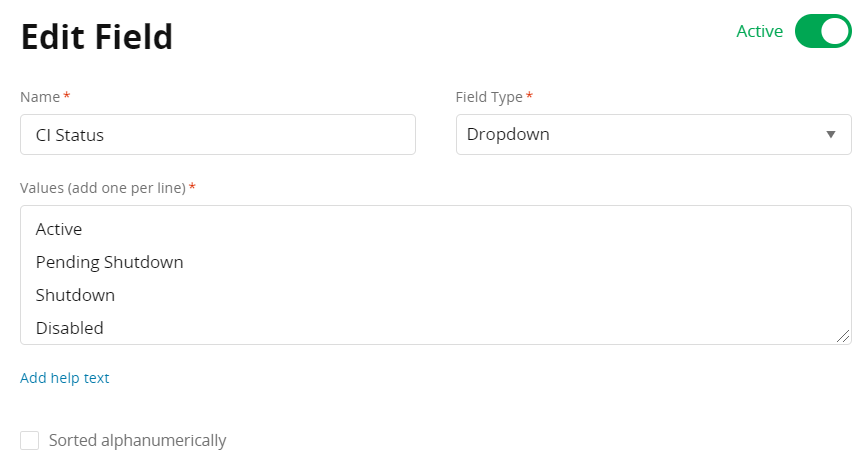 After a custom field has been added to the appropriate form, you can elect to make the field visible on the portal (for requesters to include when submitting an incident) and/or make it mandatory.
As with ITSM objects such as incidents, problems, and changes, custom rields are all displayed on the Custom Fields index page, making it fast and simple to locate the field you need.
Custom fields can include:
Type
Last update date
Person who last updated field
Email variables
Variables can be used in any email. When you select a tab a list of the variables displays on the right. From there you can copy any variable by hovering over the variable name and then clicking Copy to the right of the variable.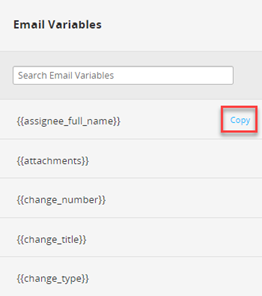 The following variables are available:
{{assignee_full_name}}
{{attachments}}
{{change_number}}
{{change_title}}
{{change_type}}
{{department}}
{{event_initiator}}
{{event_initiator_email}}
{{event_initiator_phone_number}}
{{event_initiator_title}}
{{incident_category}}
{{incident_description}}
{{incident_number}}
{{incident_number_link_to_incident}}
{{incident_origin}}
{{incident_priority}}
{{incident_title}}
{{last_updated}}
{{main_event}}
{{received_at}}
{{requester_email}}
{{requester_last_name}}
{{requester_phonenumber}}
{{samanage_link}}
{{service_desk_logo}}
{{servicedesk_name}}
{{site}}
{{solution_number}}
{{solution_title}}
{{state}}
Related topics
---